Supplies Needed For Class
Supplies Needed For Class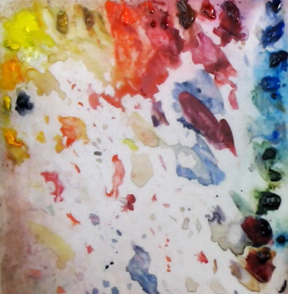 Let's jump right in and get started. I have included the supplies list for the class. Which are talked about in the video.
Supplies List
Paint Set Option 1

Any pan watercolor set.

Paint Set Option 2
Winsor Newton Cotman, Grumbacher of Pelikan Pan set

Tube Colors Option 3
recommended brands: Winsor Newton, MGraham, Grumbacher. The smallest tubes will work great.
Colors

Cadmium Yellow Light or Lemon

Cadmium Yellow Deep
Yellow Ochre

Raw Sienna

Cadmium Red Light or Scarlet
Alizarin Crimson
Thio or Thalo Violet or Acra Violet(optional)
Burnt Sienna
Ultramarine Blue
Cobalt Blue
Cerulean Blue
Thalo Blue Or Winsor Blue
Viridian
Hookers Green
Sap Green
Paynes Gray
Burnt Umber
Mixing Palette
preferably a porcelain 12 x 12 inch glazed white or light colored tile. Or something similar
or a Watercolor enameled tray or plastic palette

Drawing Board
At least a 24" x 24" or similar sized board 1/4" wood hardboard (not foam board)
Watercolor Paper
Brands: D'Arches, Arches, Winsor, and Newton
1 full sheets-140lb. or 300lb. cold pressed
full sheets 22"x 30"(approximately)
**note 140lb will need to be stretched. You will need at least a 1/4" wood hard board 16" x 20" approximately (not foam board or gator board)**
Water Containers
Something to hold your water and clean your brushes

1-roll paper towels
Water Spray Bottle
1-regular spray bottle
Sponges
1-cellulose sponges
Brushes
Watercolor brushes soft hair brushes. Look for sable or synthetic/sable blends or high-quality synthetic brushes. Watercolor brushes can be expensive so I have suggested a good quality student grade.
Note* Cotman makes affordable quality brushes, Jack Richeson 9000 series is another great brush.

Flats
1-1" brush
Rounds
1-#4 round(optional)
1-#10 round
Paper Gum Tape
1 roll
(not needed if you get 300 lb paper)
Sketchbook
9" x 12" sketchbook(multi-media if possible)
Pencils
1-2h or HB pencil
Supplies Carrier(optional)
Toolbox or something to carry Art supplies.
Kneaded Eraser
White Vinyl Eraser
Wear Clothing that you don't mind getting paint on
or use an apron
Students need to take their paints and materials
with them. We can't store them in studio.
Complete and Continue